Posted on Jul 06, 2020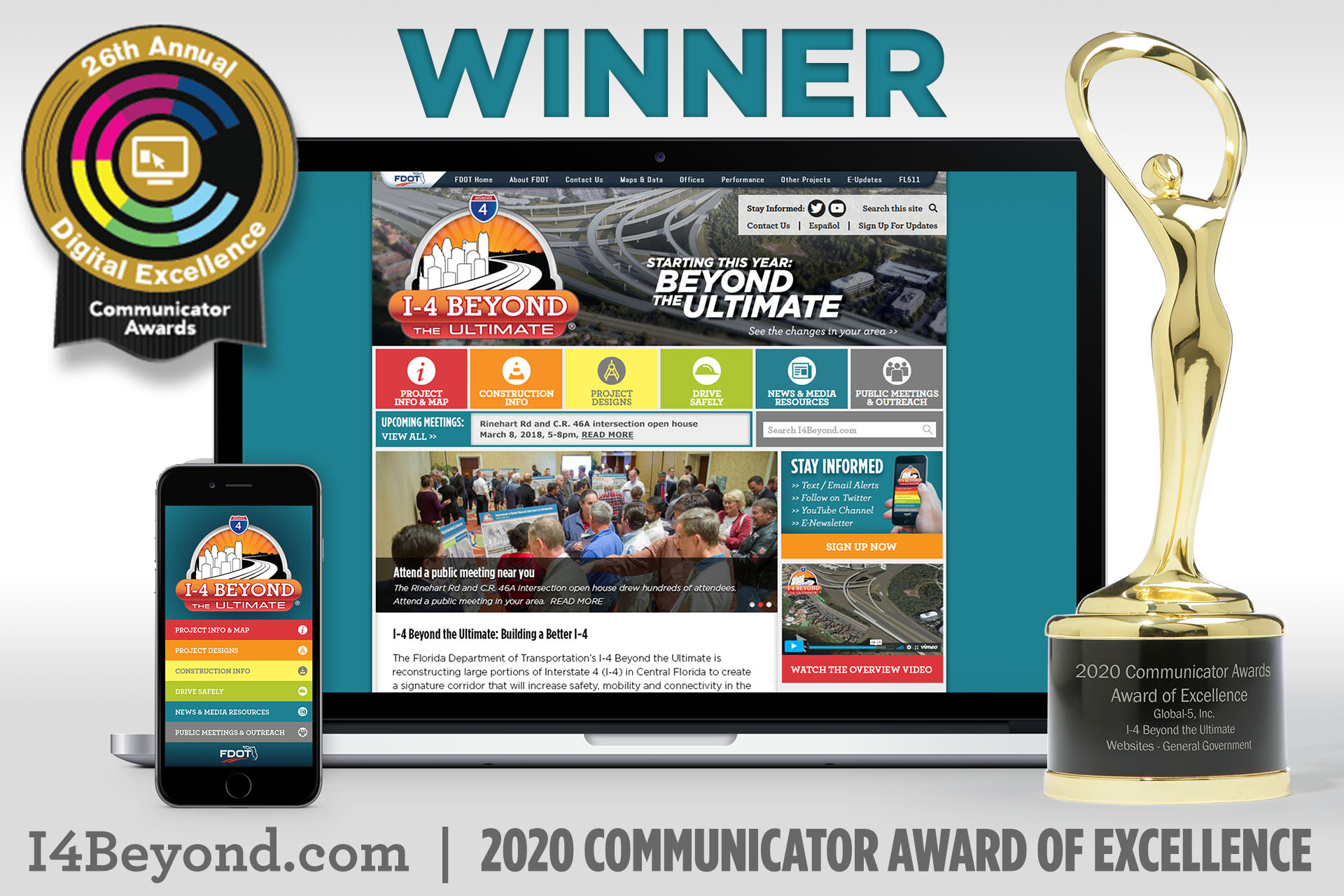 Global-5 is proud to announce it has earned the prestigious Award of Excellence from the 26th Annual Communicator Awards for its work on I4Beyond.com.
The recently redesigned I-4 Beyond the Ultimate website keeps motorists, residents, visitors, and businesses up to date about current and upcoming projects on Interstate 4 (I-4) in Central Florida while also providing easy-to-understand information and graphics.
Judges of the Annual Communicator Awards recognized I4Beyond.com with the Award of Excellence, which is the group's highest honor and "is given to those entrants whose ability to communicate positions them as the best in the field."
The winners, selected from the more than 6,000 entries from around the globe, include some of the world's best-known brands, including Amazon, ESPN Films, Macy's, PepsiCo Design & Innovation, Forbes Media, and Savvy.
I4Beyond.com was refreshed with a new look in 2019 to provide a user-friendly experience with improved navigation and functionality. The website includes detailed information about the I-4 Beyond the Ultimate design and interim projects. I-4 Beyond the Ultimate projects extend work on the northern and southern ends of the I-4 Ultimate reconstruction project and include about 20 miles of interstate east of the State Road (S.R.) 434 interchange and 20 miles west of the Kirkman Road (S.R. 435) interchange.
I4Beyond.com is the go-to resource to stay up to date on progress of the design process. The website provides rich online content with essential information relating to the design projects, including upcoming public meetings, plans, and milestones.
One of the main features of the website is the interactive "Project Map & Info." Using this feature of the website, users can quickly find details for any one of the 20-plus different I-4 interchanges that make up the I-4 Beyond the Ultimate design projects.
The website also offers real-time traffic and construction detour information under the "Construction Info" tab. This part of the website is in sync with the same map on the I-4 Ultimate project website. So, the two websites display the same construction information for lane, road, and ramp closures along the I-4 corridor.
Through i4Beyond.com, users can sign up to receive project updates about the design projects. Any time news is posted to the website, subscribers receive an email with the new information. Sign up for the advance construction alerts or project updates at www.i4Beyond.com/sign-up.