Posted on Nov 07, 2019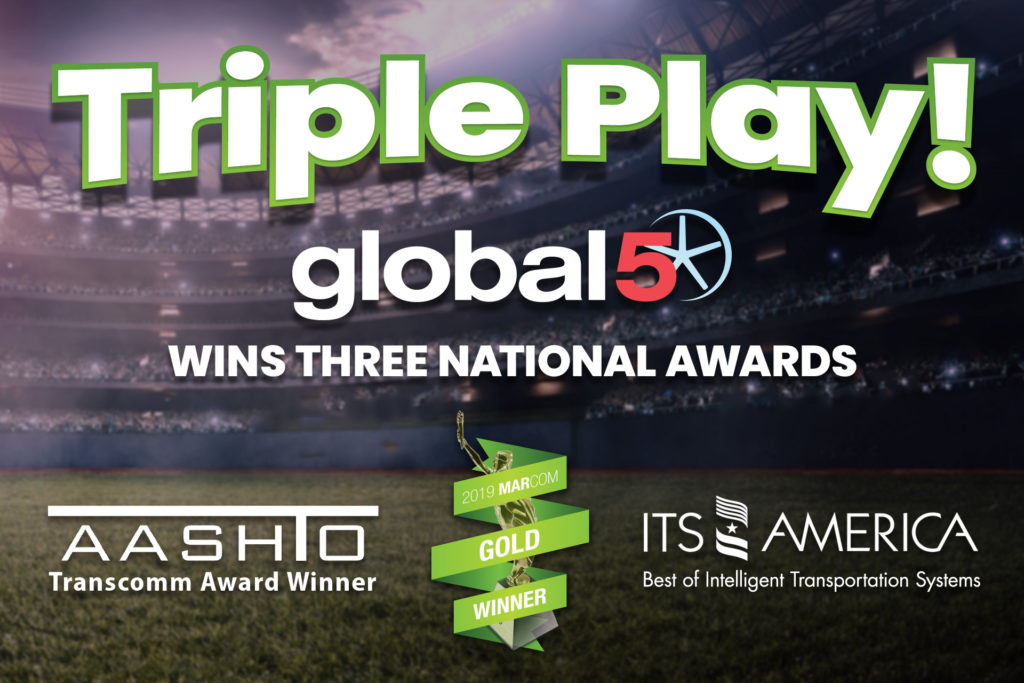 Global-5, a full-service public relations and marketing firm, recently won national awards for work performed on behalf of two of its distinguished clients, the Florida Department of Transportation (FDOT) and the Tampa Hillsborough Expressway Authority (THEA).
In October, Global-5 and FDOT's Safe Mobility for Life Program and Coalition won a MarCom Gold Award for a training video entitled "Helping Florida's Aging Drivers Stay Safe and Mobile." The 10-minute video provides law enforcement officers the information they need to help aging road users who may be a risk to themselves and others. The MarCom Awards, which are administered by the Association of Marketing and Communication Professionals, honor excellence in marketing and communication.
In August, the American Association of State Highway and Transportation Officials (AASHTO) recognized FDOT and Global-5 with a TransComm Skills Contest Award for the monthly I-4 Ultimate e-newsletter. Global-5 produces the award-winning publication on behalf of FDOT District Five for the I-4 Ultimate Improvement Project, a $2.3 billion effort to reconstruct and improve 21 miles of Interstate 4 (I-4) in Central Florida. The e-newsletter includes timely, informative articles as well as detour maps, graphics and videos, and the number of subscribers has steadily increased since the start of construction.
The annual TransComm Skills Contest is recognized as the standard of public relations excellence among state departments of transportation. This is the third time Global-5 and FDOT have been honored with the award, having won in 2015 for developing the I-4 Ultimate website and in 2018 for an I-4 Ultimate media campaign.
Earlier this summer, the Intelligent Transportation Society of America announced that THEA, another of Global-5's clients, had won the prestigious Best of Intelligent Transportation Systems (ITS) Award for the THEA Connected Vehicle Pilot. The project, which is sponsored by the U.S. Department of Transportation, has equipped approximately 1,000 cars, 10 buses, 8 streetcars and a pedestrian crosswalk with technology that enables vehicles to "talk" to each other, traffic signals and other elements of the infrastructure to improve safety in downtown Tampa. Global-5 has played an important role on the project, handling outreach, recruitment and training of driver participants.
The Best of ITS Award annually recognizes organizations that have implemented the most advanced transportation projects in the nation. Global-5 has won the award twice before, in 2007 and 2014, for its innovative marketing and outreach for FDOT's Florida 511 Traveler Information System.
Other awards Global-5 has won this year include:
Global-5 has more than 20 years of experience exceeding client expectations in government and in the transportation, construction, automotive and emerging technologies industries. For more information, visit www.global-5.com.