Posted on Jul 27, 2022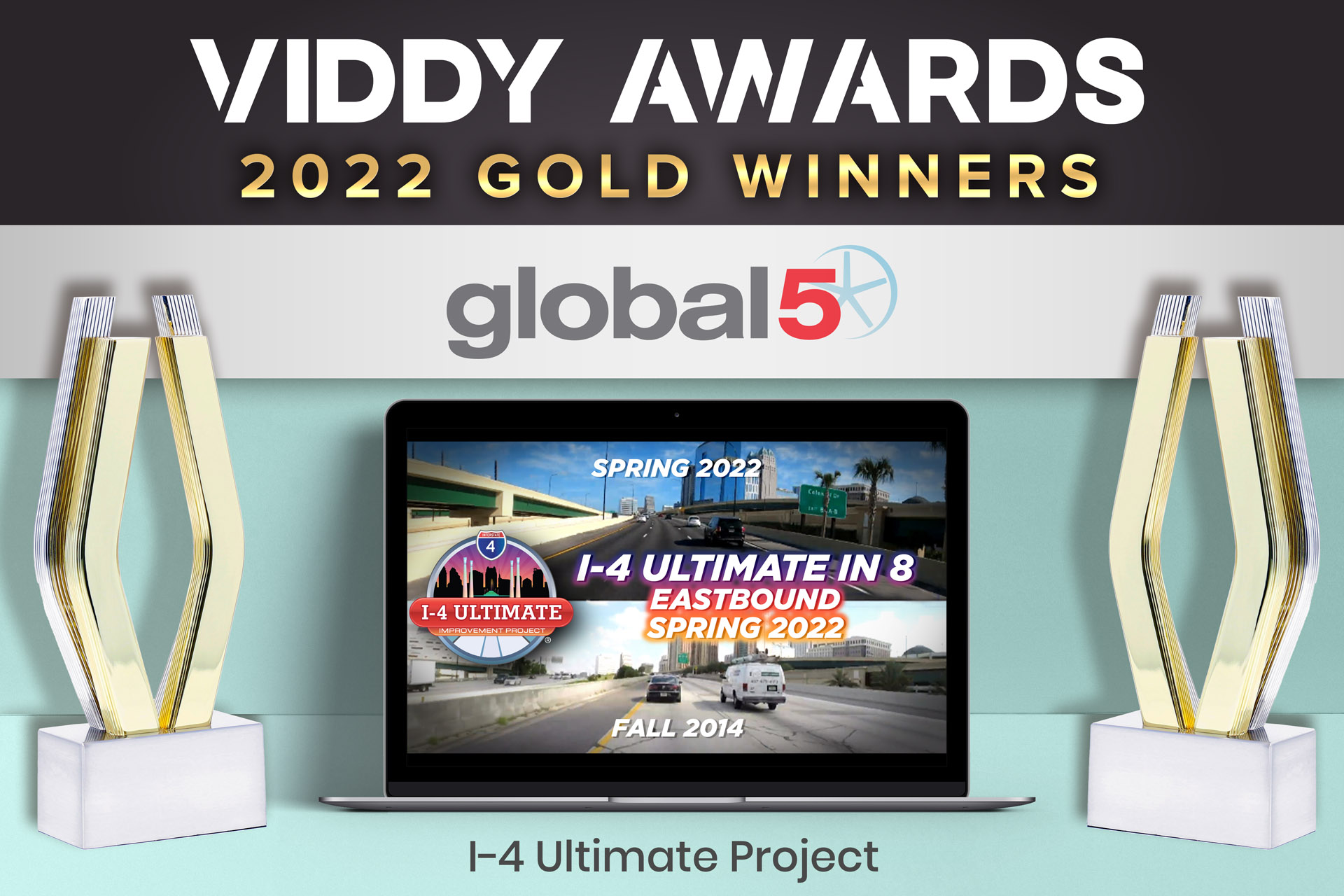 Global-5 won a pair of Gold Viddy awards in 2022 for our work on the I-4 Ultimate improvement project. I-4 Ultimate was a $2.3-billion effort to reconstruct 21 miles of busy interstate highway through the heart of Central Florida. State transportation officials relied on Global-5's expertise to keep the public informed of progress throughout the transformative, seven-year project.
One Gold Viddy recognized Global-5's innovative "Ultimate in Eight" videos. The videos were shot from a driver's perspective. They use a split-screen technique to simultaneously show current highway improvements on the top and preconstruction conditions on the bottom. The videos are accelerated so viewers see the entire 21-mile corridor in approximately eight minutes.
Global-5 won our second Gold Viddy this year in the Team Achievement category for exceptional teamwork on I-4 Ultimate. It was a special honor that was a fitting capstone at the conclusion of Florida's largest highway infrastructure project.
"Video was a vital medium for communicating with the public on a variety of platforms, including the project website and social media," Global-5 President and CEO Mary Hamill said. "These awards demonstrate once again that our creative team knows how to convey the right message to the right audience."
Global-5 also won an Honorable Mention in the 2022 Hermes Creative Awards for the I-4 Ultimate electronic newsletter, which delivered up-to-the-minute project information to thousands of subscribers.
The Viddy Awards recognizes excellence in video creation, production, and delivery. The Association of Marketing and Communication Professionals oversees the competition.
To find out more about how Global-5 can help you communicate with your stakeholders through video, please contact Matt Hamill at matt@global-5.com or 407-571-6760.