Posted on Aug 17, 2023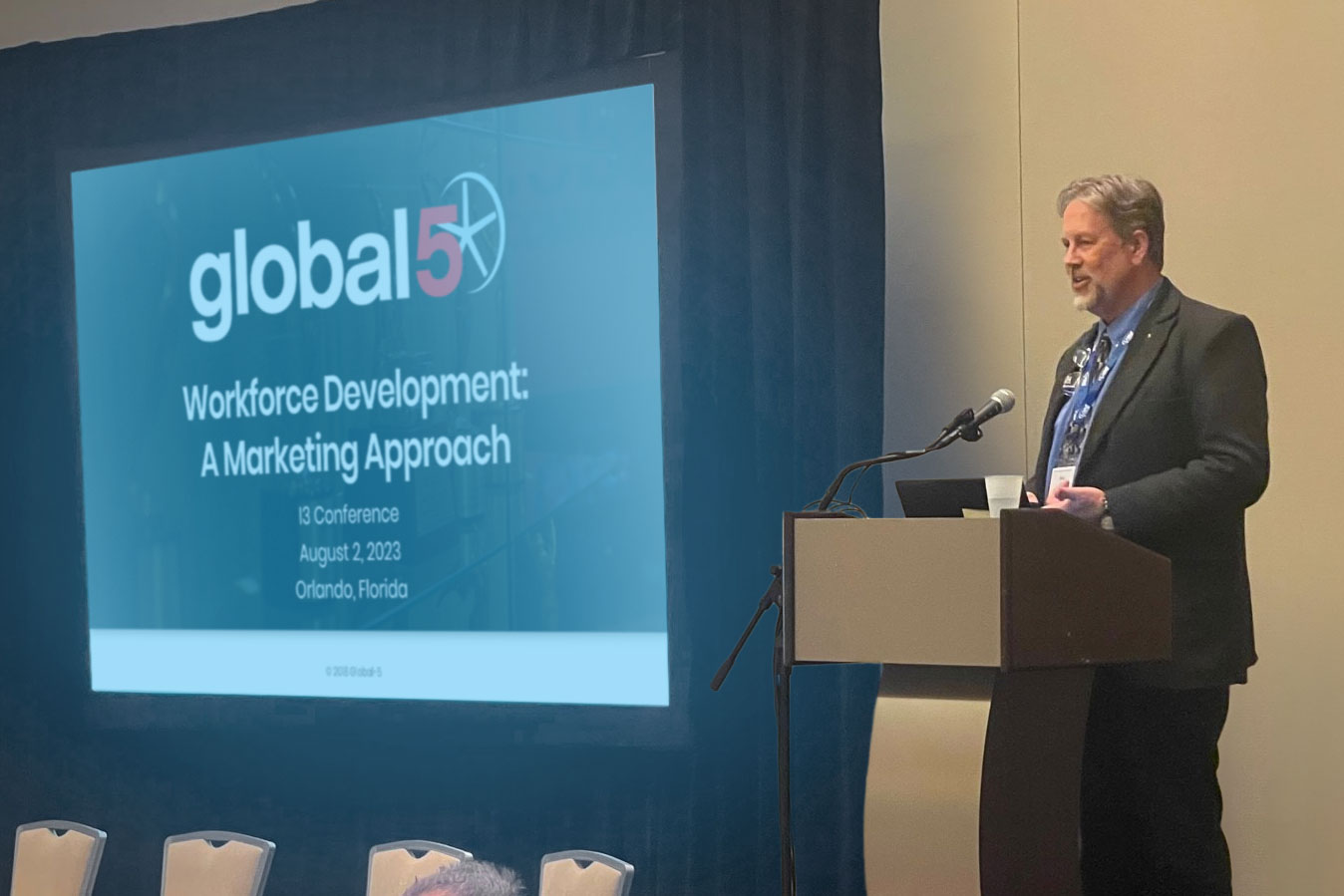 Global-5 Communications was pleased to see our very own Mike Wacht, Vice President and Director of Industry Intelligence, slated as a featured speaker at the I3 Transportation Showcase 2023 in Orlando.
Wacht shared his knowledge as Global-5's expert on marketing and behavior change during the event's session "Steering Talent: Nurturing Workforce Development in the Smart Transportation Ecosystem." His presentation focused on:
How the four points of marketing (product, price, promotion, and place) can be applied to workforce development as the industry seeks to address the current shortage of engineers and other skilled workers, and
How the principles of persuasive communications can be applied to workforce development in reaching and encouraging potential applicants to go after specific positions.
In addition, Wacht described to the audience how concepts related to behavior change — such as the cost/benefit model, the identification model, and social norms theory — can and should be put to work in workforce development efforts.
"The identification model is a particularly useful tool in effective workforce development marketing," he explained. "Target audiences are most receptive to messages delivered from people with whom they can identify. For example, if we're creating a video aimed at recent high school graduates, our video's credible storyteller would be a young person who has successfully transitioned from a low-paying position to an RTMC technician role."
Wacht also emphasized the need for employers to sell the "soft benefits" of their positions, such as work-life balance, time off, and health insurance, and to utilize social media outlets such as TikTok and Facebook Reels to capture attention.
Finally, Wacht expressed enthusiasm about the industry's recognition of the need for high-level marketing strategies. "There's no engineering solution to this issue," said Wacht. "As a marketing professional, it's gratifying to see individual companies and especially our trade associations look to proven marketing concepts as they tackle the nationwide shortage of transportation employees."
To find out more about how Global-5's award-winning communications and marketing expertise can help you reach your workforce development goals, please contact John Hamill at johnhamill@global-5.com or 407-571-6771.